Cranium: A Board Game with A Great Difference!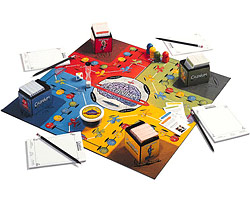 Board games come in many shapes or forms as you may have gathered by now. They can be mind teasers, individual goal-oriented (like monopoly), general knowledge (like Trivial Pursuit), or other skills (like Pictionary).
I love them all.
But one game that has puzzled me (and many others) because of the difference in approach is Cranium.
In this innovative board game, you can test how good you are in backwards spelling, humming a song, answer multiple choice questions like the one on "Who Wants to be a Millionaire", drawing, or making things with Playdough.
I mean... it is truly a multiskilled game or what!? It offers a test in any of 14 skills to be played in teams.
No wonder lots have fallen in love with it!
The object of the game is to make your team win. To do that, your team has to get to Cranium Central: that is the large purple brain in the center of the board, and then successfully complete one activity from each of the four decks.
Team members use their skills and abilities to move around the board and visit the four Planet Craniums. Each planet has its own deck of cards: Creative Cat, Data Head, Star Performer and Word Worm.
The team with the best combination of skills becomes the winner by getting to Cranium Central.
Cranium comes with the Cranium rules, 800 Cranium cards, a timer, a 10-sided die, pads and pencils, tokens and Cranium Clay.
If you have already purchased a Cranium board game, you may already be hooked. If that is so, you may also want to get the Booster Box. It comes packed with extra cards, for extra fun.
Yes, winning is fun, but the real fun behind playing Cranium consist of watching the other players deal with the challenges their given in the cards they draw. And the best thing is that, if you cannot meet the challenge, somebody else in your team is likely to!
There you are... another board game to look forward to getting and playing!
Posted by Jeff